As a fourth-generation family business with over 75 years of history, we take immense pride in our tradition of excellence and our role in shaping the future of education. At this year's EdSpaces, we showcased our largest and most diverse range of school furniture yet.
Our Innovative Product Range
Our exhibit featured new innovative tables, desks, storage solutions, seating, and presentation areas. Each piece was crafted not only with aesthetic appeal in mind but also to respond to students' needs, fostering movement, interaction, and engagement.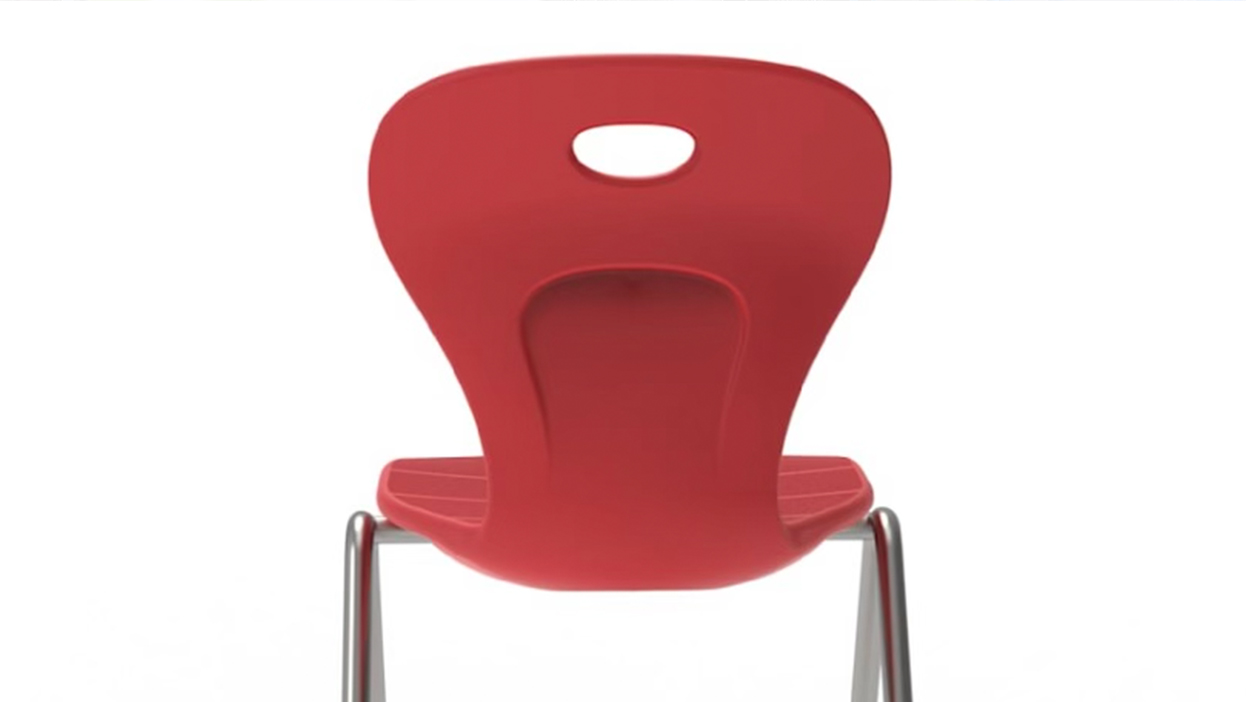 Introducing Innovation-X
We introduced the brand new Innovation-X series: a "non-framed" version of our popular Innovation collection. This new series brings industrial aesthetics to more diverse shapes (shown below on an oval shaped top) allowing more seating positions and adaptability for various applications. Stay tuned, as we will be introducing a new Game Center / eSports application. We also showed our primary Innovation Series, which is available in three different heights, pairs beautifully with our new wooden stool, blending wood and metal for a sophisticated look. These tables are perfect for creative spaces.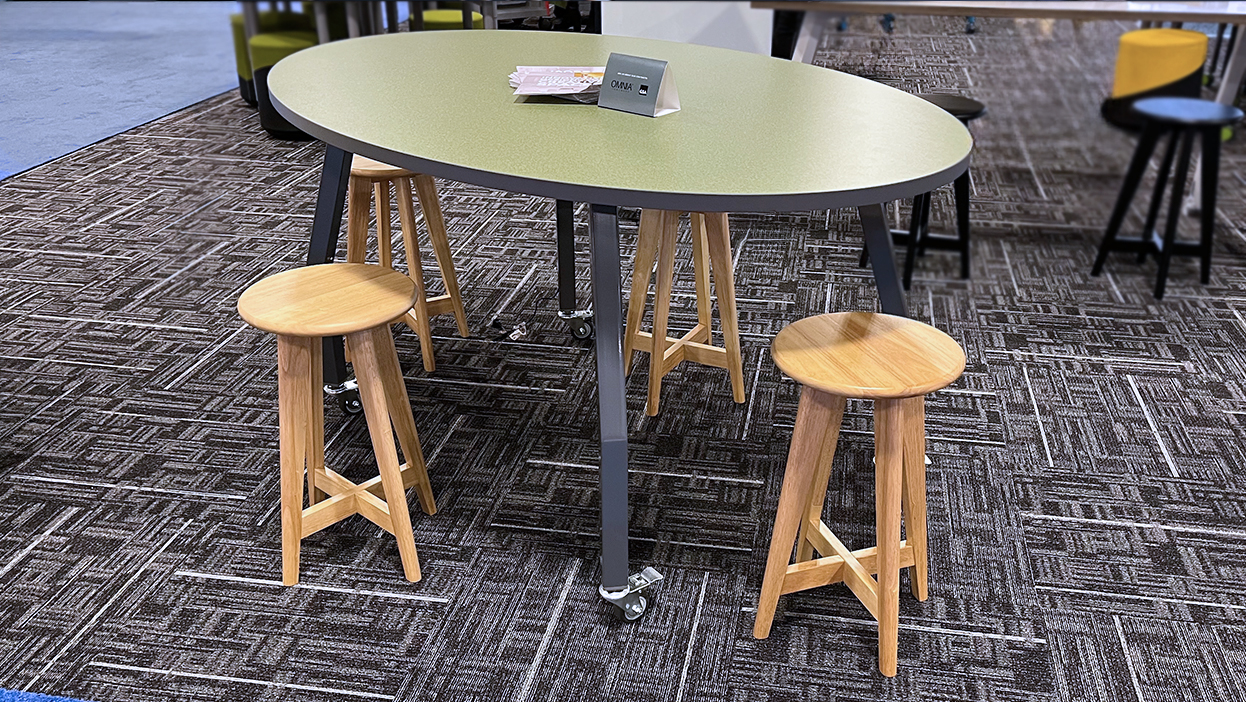 Our desks and tables come with three leg options: Velocity, Aero, and the Modern Classic, each catering to different design preferences and budgets. The Velocity, with its up-market aesthetics, Aero's sleek elliptical shape, and the Modern Classic's updated leg mounting exemplify our commitment to both aesthetics and budget.
We showed a brand new shape in our Velocity series, called the Stealth. It is a new take on our Delta desk. The Stealth offers a bit more workspace and intuitive geometric nesting capabilities for students and teachers.

We also rolled out our new standard laminate offering. We've introduced 32 new standard laminates, and upgraded our Wilsonart program for greater customization. From wood and abstract designs to color and whiteboard options, our new range ensures that there's something for every project.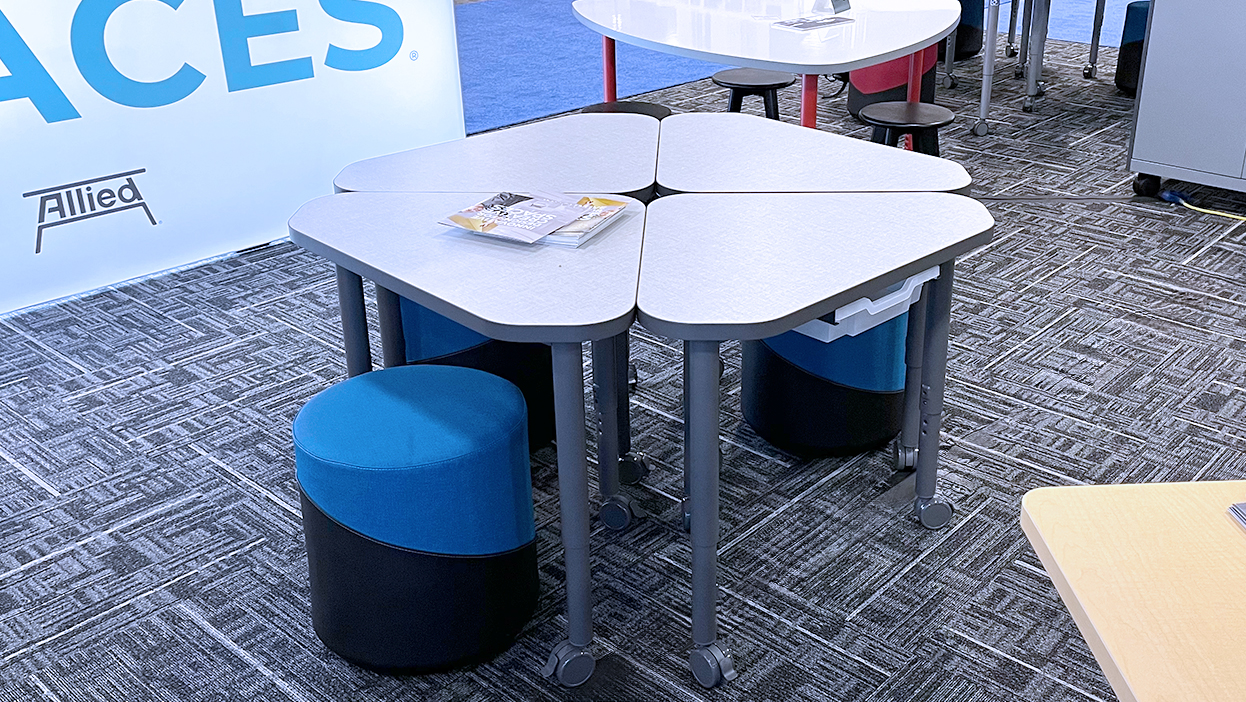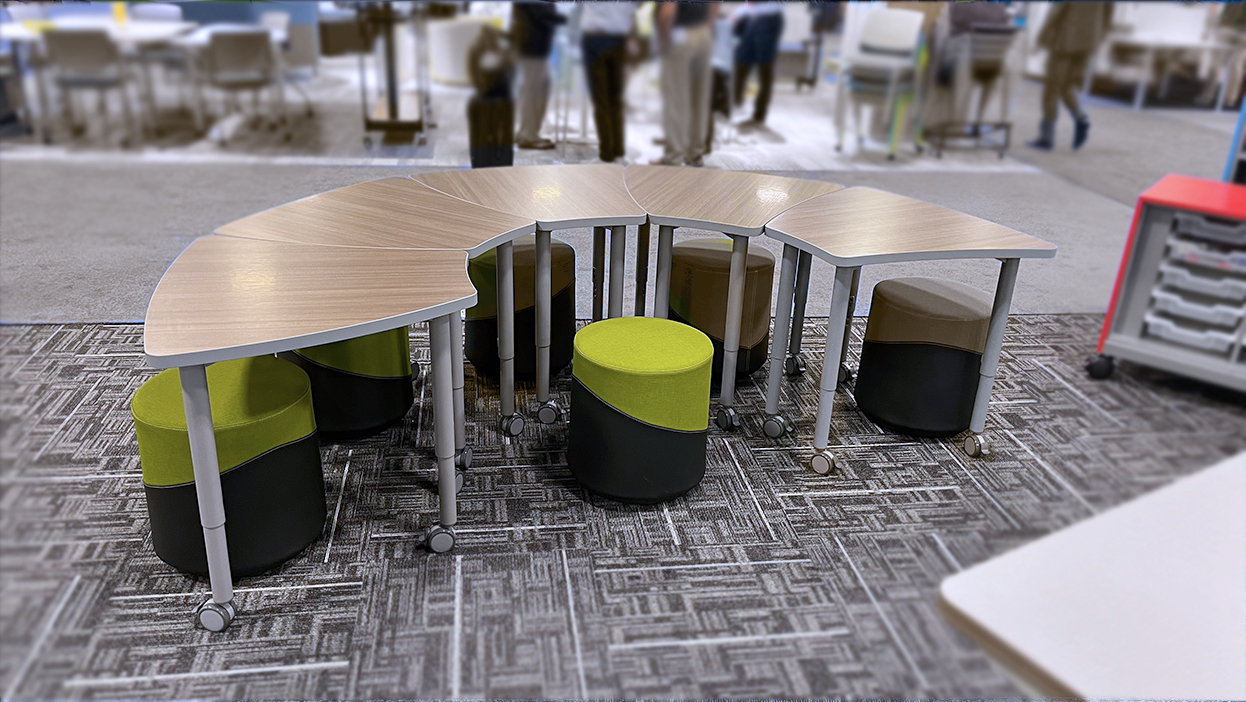 Storage Solutions
The Hutch Series, available in three heights, offers a unique aesthetic suitable for elementary and upper schools; even offices and healthcare settings. Its design, featuring 90° corners, provides a mature look and functional versatility. We revealed a new neutral color offering; charcoal. Our Me-Station presentation boards were a hit, many educators were impressed with the 'replaceable whiteboards' feature.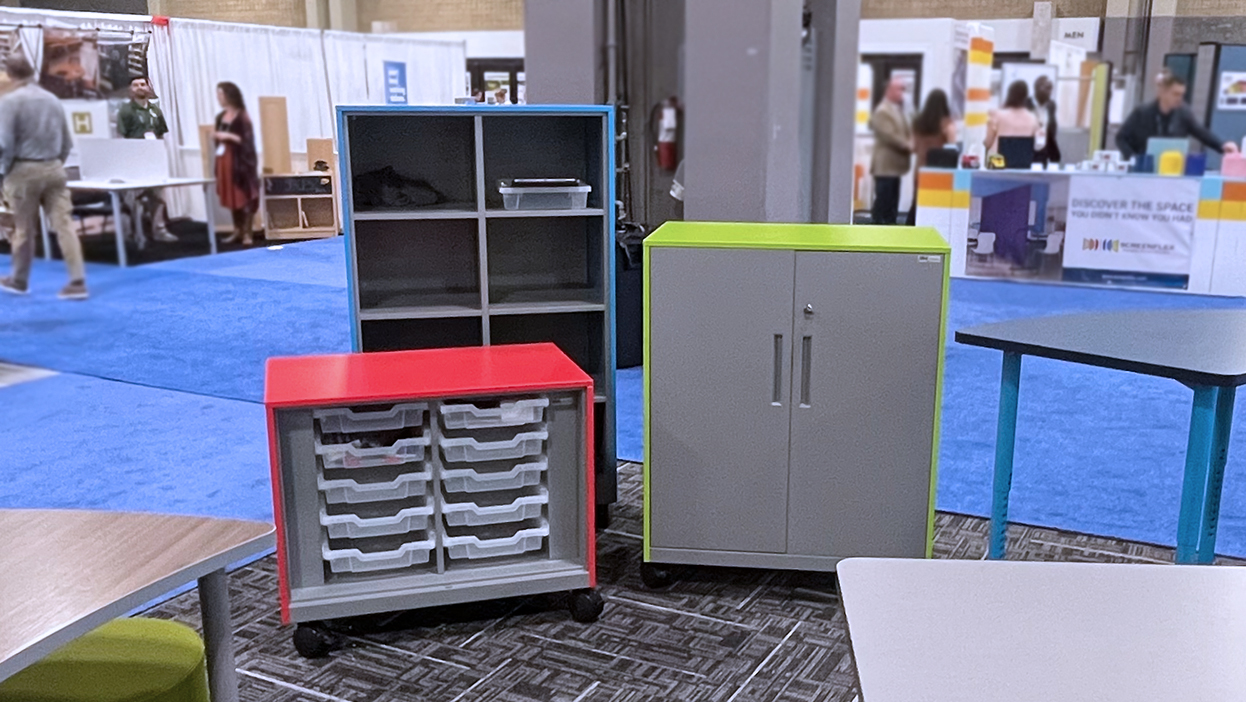 Seating Options
We introduced a brand new look for our popular wooden stool; it now sports a comfortable and stylish design, with a black version also available. The Boody Stool is a standout with its padded top and seven upholstery options, perfect for extended seating.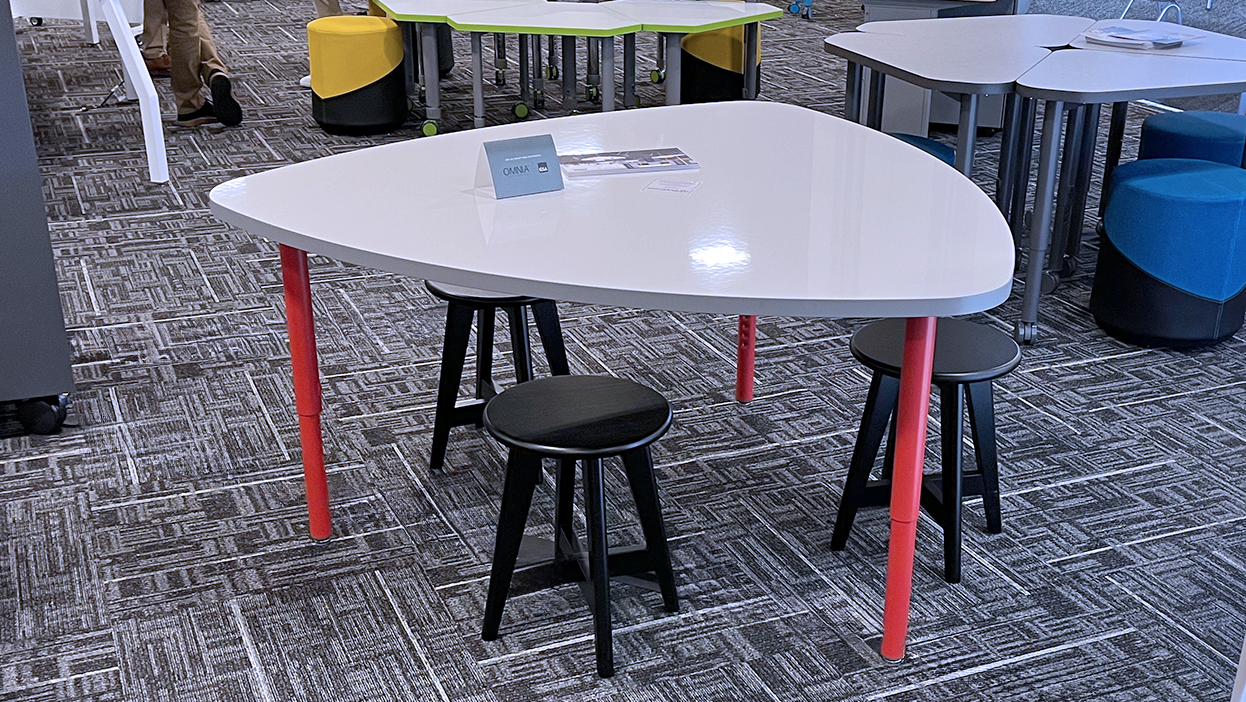 Teachers and Admin Desks
Featuring the Velocity and Traditional Teachers Desks, these designs stand out with features like perforated modesty panels and clean 2mm edges. Our quick assembly design, reducing installation time by 75%, remains a key highlight for dealers and administrators alike. Visitors to the booth were pleasantly surprised by the quick assembly design; installing the pedestal is as simple as attaching two L-Brackets and screwing the pedestal to the top, saving a significant amount of time compared to other, more complex models on the market.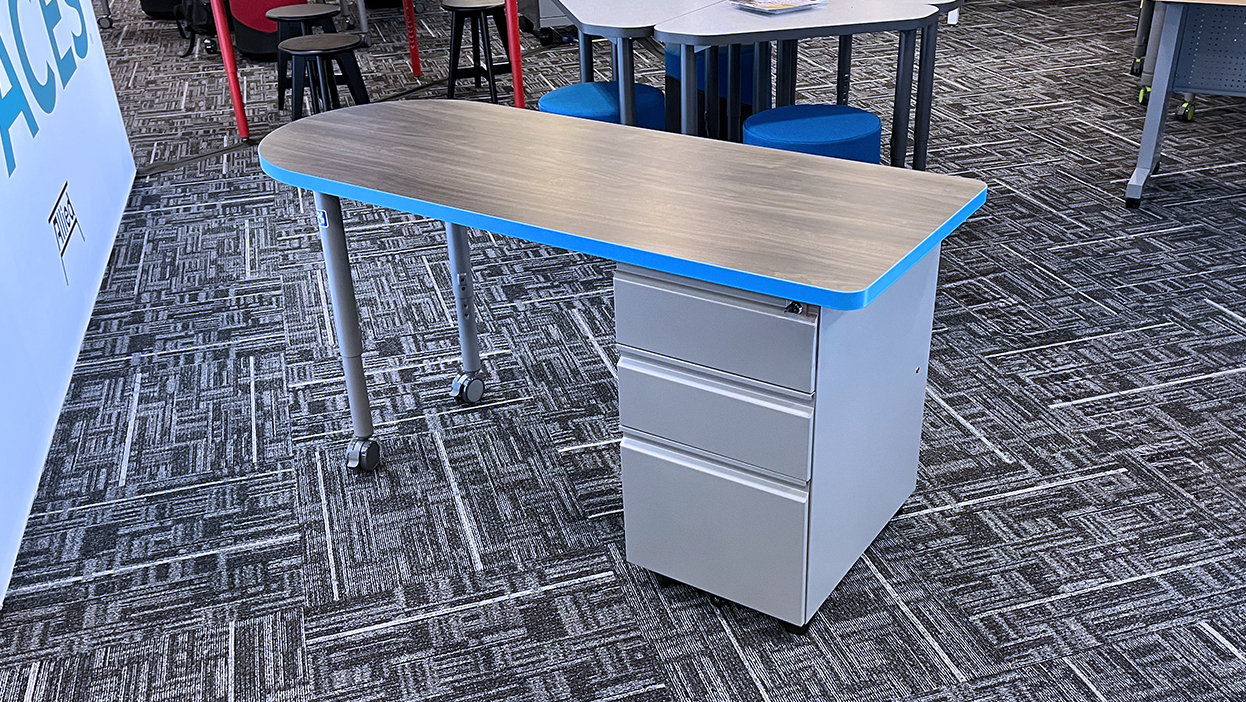 Innovative Carrels
Our modern carrels, featuring plexiglass and organic shape tables, provide a blend of privacy and open visibility, ideal for libraries or common spaces. The curvilinear shape of the carrel allows the students to feel privacy, but also have sight-lines to feel a connection to what's going on in the room. A few administrators that visited the booth also pointed out that they liked the height of the plexiglass because they could "keep an eye on the students in the carrel."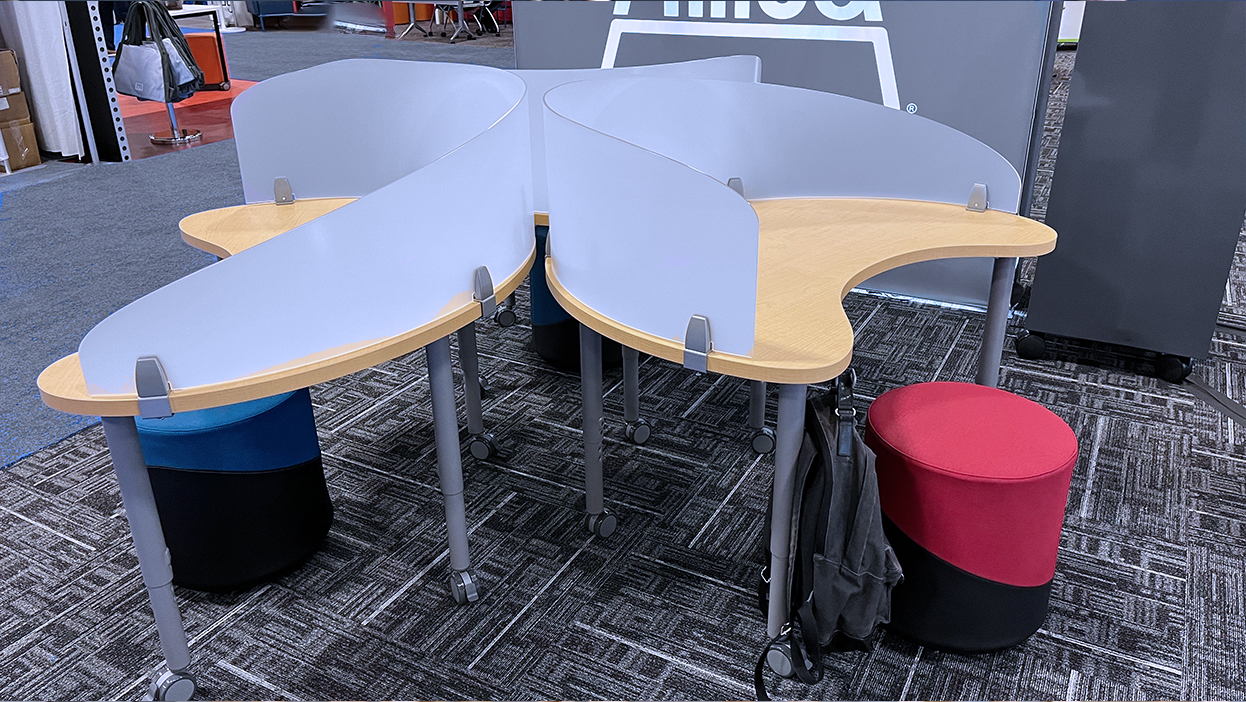 Tour Video