Art Tables
Our expertly designed art tables and art storage cabinets cater to the diverse needs of every art classroom. Whether your learners are sketching a masterpiece or organizing art supplies, our wood art tables are built to support every stage of the artistic process, making them an essential element in modern learning environments.
Request More Information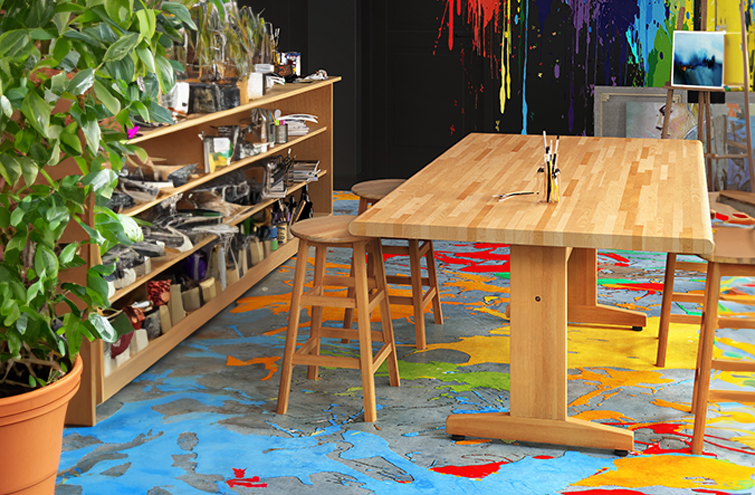 Browse Products By:
Transform your art classroom into a center for creativity.
Our carefully crafted school desks and chairs are designed to inspire young minds, fostering imagination, collaboration, and critical thinking. Discover how thoughtful design can elevate your art classroom.
Keep Studying About Our Art Tables:
Our art tables are designed to fully support the planning and execution of art projects. As experts in school furniture, we understand that each classroom has unique needs, and that's why we provide a diverse range of art tables that can accommodate a variety of interior spaces.

Our classroom tables offer ample workspace, giving students plenty of room to plan their artwork from start to finish. Whether it's sketching out ideas or working on intricate details, our tables provide the generous surface area needed to comfortably carry out these tasks.

We also understand the importance of storage when it comes to art supplies. That's why our art tables come with storage capabilities, allowing students to keep their materials organized and easily accessible. Whether it's small craft tables that can fit into a corner of a Pre-K classroom or larger drafting tables and makerspace workbenches that can fill an entire dedicated art space, we offer different sizes and designs to meet your specific needs.

By providing a wide selection of art tables, we ensure that each classroom has the right tools to foster creativity and productivity. With our tables, students can focus on their art projects without being limited by space constraints or storage issues. From planning to execution, our art tables are a reliable and versatile solution for any art classroom.